Job Vacancies & PhD Studentships
Postdoctoral Research Associate / Fellow in Ecology and Wildlife Management
Date posted: 17/10/2018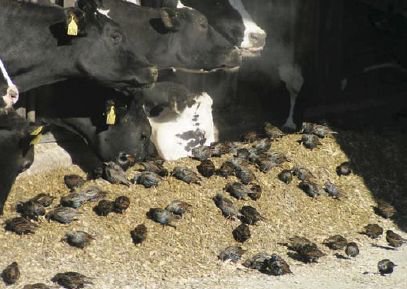 Application closing date: 31/10/2018
Location: Penryn, Cornwall
Salary:    Postdoctoral Research Associate, salary from £29,515 up to £34,189 on Grade (E)  Postdoctoral Research Fellow, salary from £35,211 up to £43,267on Grade (F).
We are looking to appoint either a Postdoctoral Research Associate or a Postdoctoral Research Fellow. This is a full time post available immediately until 31st December 2019 and is part of a project involving the University of Exeter, in the College of Life and Environmental Sciences, within the Environment and Sustainability Institute (ESI) on the Penryn Campus. It is funded through the European Regional Development Fund and forms part of the European Strategic investment framework for Cornwall and Isles of Scilly.
We are seeking a research ecologist to lead development of innovative solutions to mitigating the impacts of starlings on the farmed environment, specifically dairy farms. The successful applicant will lead a project gauging the impact of starlings on farms, and will work with partners in the USA to evaluate sonic deterrents to reduce their impact.
Dairy farming is a major part of the Cornish economy. Although cattle usually graze outdoors, they tend to be housed in large barns/sheds over winter. At this time their environment can be severely affected by flocks of tens of thousands of starlings that fly into the barns/sheds to take cattle feed. The starlings can severely deplete cattle feed supplies, defecate in the barn and cause a nuisance for farm workers.
About you
Experience in avian ecology is essential and a track-record of wildlife management research is desirable, alongside the ability to identify ways in which this research can deliver business impact within the region's agritech sector.
The post is offered with a salary range to reflect prospective applicant's skills and experience. Please clearly state the grade of post to which you are applying.
To view the Job Description and Person Specification document please click here.
PhD Studentship: Dormouse conservation and woodland management
Application closing date: 07/01/2019
Location: Penryn, Cornwall
The award:  This project is one of a number that are in competition for funding from the NERC Great Western Four+ Doctoral Training Partnership (GW4+ DTP).  The GW4+ DTP consists of the Great Western Four alliance of the University of Bath, University of Bristol, Cardiff University and the University of Exeter plus five Research Organisation partners:  British Antarctic Survey, British Geological Survey, Centre for Ecology and Hydrology, the Natural History Museum and Plymouth Marine Laboratory.  The partnership aims to provide a broad training in earth and environmental sciences, designed to train tomorrow's leaders in earth and environmental science. For further details about the programme please see http://nercgw4plus.ac.uk/
For eligible successful applicants, the studentships comprises:
An index-linked stipend for 3.5 years (currently £14,777 p.a. for 2018/19);
Payment of university tuition fees;
A research budget of £11,000 for an international conference, lab, field and research expenses;
A training budget of £4,000 for specialist training courses and expenses.
Up to 30 fully-funded studentships will be available across the partnership.
The project: 
Despite their strict protection and major conservation efforts, populations of hazel dormice Muscardinus avellanarius in England and Wales continue to decline. Recent analyses by the University of Exeter (Goodwin et al 2017) identified a 72% decline in dormouse populations from 1993 to 2014 and suggested that the species could be categorized as Endangered in the UK. Our recent work (Goodwin et al 2018a, b) has also highlighted the importance of improving woodland management to enhance the conservation status of the species in the UK. This collaborative CASE project will involve fieldwork on dormice and forestry practice. The student will work alongside key conservation organisations to build on recent work on dormouse ecology and to evaluate and improve woodland management practices in order to reverse the fortunes of this most endearing British mammal.
The overall aim of this project is to understand variation in dormouse conservation status, evaluate woodland management and provide evidence for improved practices to support dormouse recovery in the UK. This will be achieved by extensive analysis of dormouse populations and of woodland characteristics, using remotely sensed data, accompanied by intensive surveys of dormice and habitats in a sample of commercial and non-commercial, broadleaf and coniferous woodlands. The student will survey woodland managers to understand practice in relation to conservation regulation and commercial and other management objectives. The student will also have the opportunity to employ molecular genetic techniques to understand dormouse population processes and to develop population models to understand how variation in practice might affect populations in the long term. The student will work at public and private forests across England and Wales, sampling sites at which dormice are thriving and sites where they are in decline. The project will require extended periods of fieldwork away from Cornwall, and periods in the laboratory in Cardiff and at Forest Research.
Entry Requirements
Applicants should have obtained, or be about to obtain, a First or Upper Second Class UK Honours degree, or the equivalent qualifications gained outside the UK.   Applicants with a Lower Second Class degree will be considered if they also have Master's degree.  Applicants with a minimum of Upper Second Class degree and significant relevant non-academic experience are encouraged to apply.
The project will suit a student interested in a career in animal ecology, conservation science and wildlife management. The work will require a high degree of analytical ability and a willingness to work in the field conducting ecological studies of wildlife and practitioner surveys, in the laboratory and at the computer conducting statistical and analytical work.
All applicants would need to meet our English language requirements by the start of the  project http://www.exeter.ac.uk/postgraduate/apply/english/.
For more details about the project and funding process please click here.
Prospective Research Fellows & PhD Students
Professor McDonald is interested in supporting PhD students and collaborating with fellows in any of our key research areas:
Wildlife management and conservation
Conflicts and disputes about animals and their management
Ecology and management of domestic animals in the environment
Animal social networks and their implications for ecology and diseases
Ecology and management of introduced and invasive species
"Most of my work is conducted on mammals and birds in the UK, and this will continue to be the priority. Right now, I am especially keen to undertake further work on dormice and woodland management, predators, predation and shooting interests, badgers and bTB, cats, dogs and other domestic animals in the environment and other gnarly problems with wildlife.
I am especially keen on supervising students in collaboration with colleagues in other disciplines, across campus and beyond. Most of my PhD projects on badgers and TB are undertaken in this way. PhD supervision is also undertaken in collaboration with a number of my colleagues at partner organisations, including Professor Richard Shore at Centre for Ecology and Hydrology, Professor Dez Delahay at National Wildlife Management Centre, Dr Henry Schofield and Dr Jenny Macpherson at The Vincent Wildlife Trust, Dr Robin Gill at Forest Research, Dr Ruth Cromie at Wildfowl and Wetlands Trust and Dr Menna Jones at the University of Tasmania. I also co-supervise students across the GW4+ network with Dr Sarah Perkins and Dr Liz Chadwick at Cardiff University.
For all PhD students, funding is hard to come by and all scholarships for which I have secured funding will be advertised here and on findaphd.com.
I am always keen to hear from UK resident graduates, with excellent academic credentials with a view to applying for Doctoral Training Partnership and other highly competitive scholarships. If you fit this bill and are keen to develop a project in the areas above, or related areas, get in touch at any time."
The next entry date for PhD students is September 2019, with applications between now and then.